Simple watering system that can be used for pot plants around your home – Aquasolo ceramic watering cones offer an innovative way of caring for  plants both in the home & garden when you are away.
Simple self-watering system – Made up of a ceramic cone and a plastic screw adaptor, it is easily assembled in a few minutes.
A re-usable reservoir – Aquasolo can also be used to provide hungry plants with liquid feed and is great for greenhouse and house plants alike.
Available in two sizes – Small and Medium. The watering cones are compatible with most bottle types from 0.5l to 2l capacity and cater for plant pots up to 40cm in diameter, keeping plants watered for up to 28 days.
Tip – To ensure optimum performance of your Aquasolo, remove the cone every few months and soak in a vinegar solution, brush & rinse in clean water.

PRODUCT VARIATIONS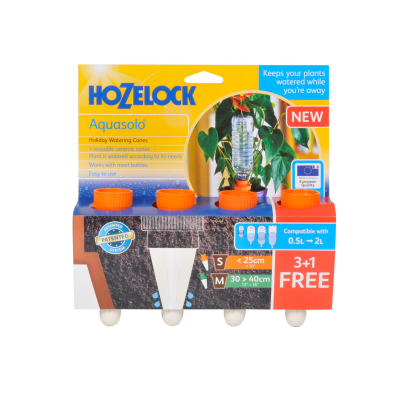 Watering cone for small pots
Size: For pots up to 25cm
Quantity: 4 cones per pack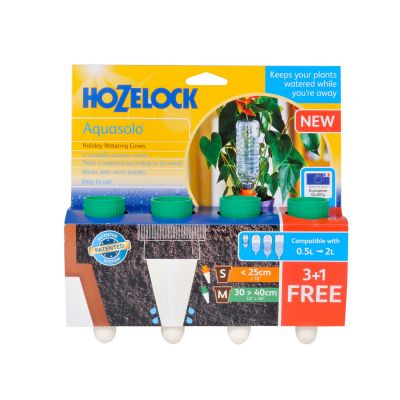 Watering cone for medium pots
Size: For pots up to 30-40cm
Quantity: 4 cones per pack
Just follow these few simple steps for the perfect watering solution
1. Select the Aquasolo cone according to the size of your pot and choose the bottle size for the required duration.

2. Fill the bottle with tap water, adding liquid feed if required.

3. Screw the bottle onto the cone, with or without the adapter, making a hole in the bottom of the bottle to ensure a flow of water.

4. Insert the cone into the plant pot to allow a slow release of water into the compost.